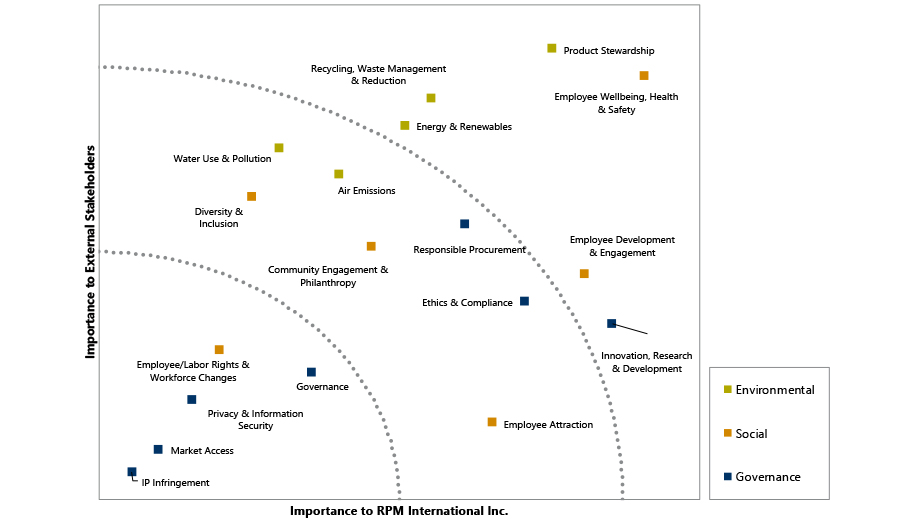 Note: Materiality on this site refers to the definition from the Global Reporting Initiative (GRI) Standards, and is not the definition of materiality used for filings with the U.S. Securities and Exchange Commission (SEC). Issues deemed material in this report may not be considered material for SEC reporting purposes.
TOPIC IDENTIFICATION We identified a set of potentially relevant ESG topics by conducting a thorough assessment of sector-specific topics, prioritized by two leading sustainability frameworks - GRI Standards and the Sustainability Accounting Standards Board (SASB). In addition, we reviewed ESG thought leadership, industry research, peer ESG reporting and other publicly available resources to determine which topics might be material to RPM and its stakeholders. After completing this topic identification, we mapped our ESG impacts across RPM's entire value chain - from raw materials sourcing to product use and end-of-life. This exercise helped identify where potential ESG impacts may occur.
TOPIC PRIORITIZIATION After identifying a group of potential material topics, we engaged internal and external stakeholders to gather evidence of our ESG impacts, risks and opportunities. We then evaluated and synthesized these findings to determined the relative importance of each topic. To provide a more balanced body of evidence for each topic, we also evaluated numerous internal and external sources. These inputs combined to provide a relative priority for our material topics.
VALIDATION After prioritizing the ESG topics identified by RPM's stakeholders, we hosted a validation session. During this exercise, RPM leaders reviewed the results of the topic prioritization, provided feedback and confirmed the results.
RPM'S MATERIAL TOPICS
Per the GRI Standards, we identified RPM's material topics by considering the two dimensions of the materiality principle: 
The significance of our organization's economic, environmental and social impacts; and

Our substantive influence on the assessments and decisions of stakeholders.
While all ESG topics are important to our company and warrant effective management, this report focuses on the topics that are most material to our business. We will continue to monitor, manage and report on each of our material topics.